News
Prof. Markus Nyikos announced at the final concert 2018 that he will retire from giving masterclasses in Leutkirch after 12 fantastic years here. A dignified farewell was given at the final concert in the Festhalle at the end of his last masterclass. Read more about it here.
As successors we could win Prof. Jan Ickert (University of Music and Performing Arts Frankfurt) for the summer academy Leutkirch. We look very much forward to the new cooperation.
Master classes for Violin, Viola, Violoncello and Chamber Music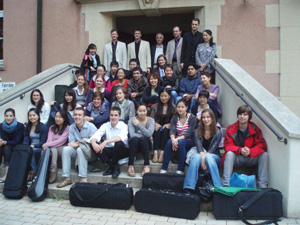 GENERAL INFORMATION about the master classes:
The courses of the Summer Academy Leutkirch are mainly for young, talented musicians who want to prepare for their studies, already study or want to improve their skills after graduation.
The Courses take place at various locations in Leutkirch, and will be held usually between around 10 a.m. and 8 p.m. on consultation with the lecturers. Listeners are welcome. The courses include:
• individual lessons,
• groupe lessons (e.g. technique lesson),
• professional piano accompaniment,
• admittance to all concerts (listener),
• many internal and public concerts for participants
• course organization.
The courses offer the full range of working on instrumental-specific technique up to artistic elaboration of compositions.
The number of participants and the high artistic level show: The summer academy is a successful model. In years of very productive cooperation, the City of Leutkirch, the team of the vhs Leutkirch and the artistic director (until 2015) and Ludwigsburg-based pianist Holger Spegg created a great base for master classes which good reputation goes passed the borders of Germany. Applications arrive from all over the word, including the USA, Canada, Brasil, Argentina, Columbia, Taiwan, Japan, China, Korea, Russia, the Ukraine, Newsealand, Portugal, Poland, Switzerland, Hungary, Italy, Spain, Denmark, Czech Republic, Israel, France, Luxembourg and so on.
Financial support we got from various sponsors:
• The OEW Cultural Foundation
• Messrs. Hutter Travel
• Die Leutkircher Bank
• The Art and Culture Foundation of LBBW
• The Bertold Leibinger Fondation and
• The company elobau.
Thank you very much!!!
ARTISTIC DIRECTOR: Roland Glassl, Viola
MANAGEMENT AND ORGANIZATION: Karl-Anton Maucher, VHS Leutkirch
Impressions 2018
(more pictures you will find at our Gallery)
Registration deadline is July 15, 2019
However, an earlier application is recommended because the classes might be already full at this time.
Scenes of a lesson