News
Viola and Cello courses fully booked!
The viola and the cello course for 2023 are unfortunately already full and we therefore ask you not to register for these courses anymore.
2023
This year we will celebrate the 20th edition of the Leutkirch Summer Academy. We can look back on great master classes, many wonderful anecdotes, fantastic concerts and lots of fun. It is also worth taking a nostalgic look at the galleries of the past years.
A photographic review of the 20 years is in the making and will be available here shortly.
We are very much looking forward to the 20th edition of the Leutkirch Summer Academy!

There will again be the possibility for as many course participants as possible to move into private accommodation if they register early, although the number we can offer is not yet assured. As every year, the hotel "Post" will provide us with a special contingent of single rooms. The tourist information Leutkirch (07561 87154) will be happy to assist you in finding a hotel or pension room or a vacation apartment.


About the masterclasses 
Masterclasses for Violin, Viola, Violoncello and Chamber Music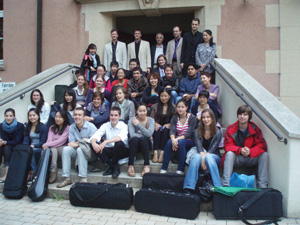 The master classes of the Leutkirch Summer Academy are primarily aimed at young, talented musicians who want to prepare for music studies, are already studying, or want to continue their education even after completing their studies.
The courses cover the entire spectrum from instrumental-specific technique to the artistic elaboration of musical works. The course also offers ideal opportunities for audition preparation.

The courses take place at various locations in Leutkirch and are usually held between about 10 am and 8 pm by arrangement with the lecturers. The courses include:

• individual lessons,
• groupe lessons (e.g. technique lesson),
• professional piano accompaniment,
• admittance to all concerts (listener),
• numerous internal and public concerts for participants

The International Summer Academy Leutkirch has enjoyed extraordinary popularity for many years, as can be seen from the high number of participants and the continuing high artistic level. There are many reasons for this and it is not only due to the excellent work of the instructors, but is also a response to the extraordinary structure and orientation of the course, as well as to the highly professional organization by the team of the vhs Leutkirch and to the ideal framework conditions.
Every year, many host parents agree to host course participants in their homes. We are very grateful for this extremely friendly and generous support from the people of Leutkirch, which often results in ties that extend far beyond the course itself.
Despite the large number of course participants, there are many practice and rehearsal rooms available. Each instrument group has its own building with many rooms, which makes the practice situation very relaxed!
Every year there are well-attended concerts for participants at numerous attractive locations in the surrounding area, to which we organize transportation in buses.
Leutkirch itself is located in a dreamlike pre-Alpine landscape, where there is room for biking or hiking in addition to practicing. Clear lakes and ponds invite you to swim! Theater, classical music, jazz, cabaret and village culture can be experienced live here.
Usually the course overlaps with the K4 night, which takes place during the city summer festival. K4 stands for "Kunst, Kultur, Kommerz und Kneipen" (art, culture, commerce and pubs). Every year, tens of thousands of visitors come to this colorful and stimulating cultural night in Leutkirchen's old town. This is a wonderful way to break up the course during the intensive days of musical work.
To be able to meet the friendly people of this lively town and experience its tradition and culture, is mostly already a result of the accommodation by the host parents - if this kind of accommodation is desired at the time of registration - but also of the intensive time of about 11 days in the town.
All in all, the course offers an unusual and exceptional overall package that certainly distinguishes and sets it apart from other courses.
Financial support we got from various sponsors:
• Lions Club Leutkirch
• Rotary Club Isny-Leutkirch-Wangen
• Familie Miller-Weber-Stiftung
• Bürgerstiftung Leutkirch
• Volksbank Allgäu-Oberschwaben
• Oberschwäbische Energiewerke (OEW)
• Die Firma elobau GmbH Co. KG
Thank you very much!!!
ARTISTIC DIRECTOR: Prof. Roland Glassl, Viola
MANAGEMENT AND ORGANIZATION: Karl-Anton Maucher, VHS Leutkirch
Impressions 2022
(more pictures you will find at our Gallery)
Registration deadline is July 11, 2023
However, an earlier application is recommended because the classes might be already full at this time.
Scenes of a lesson